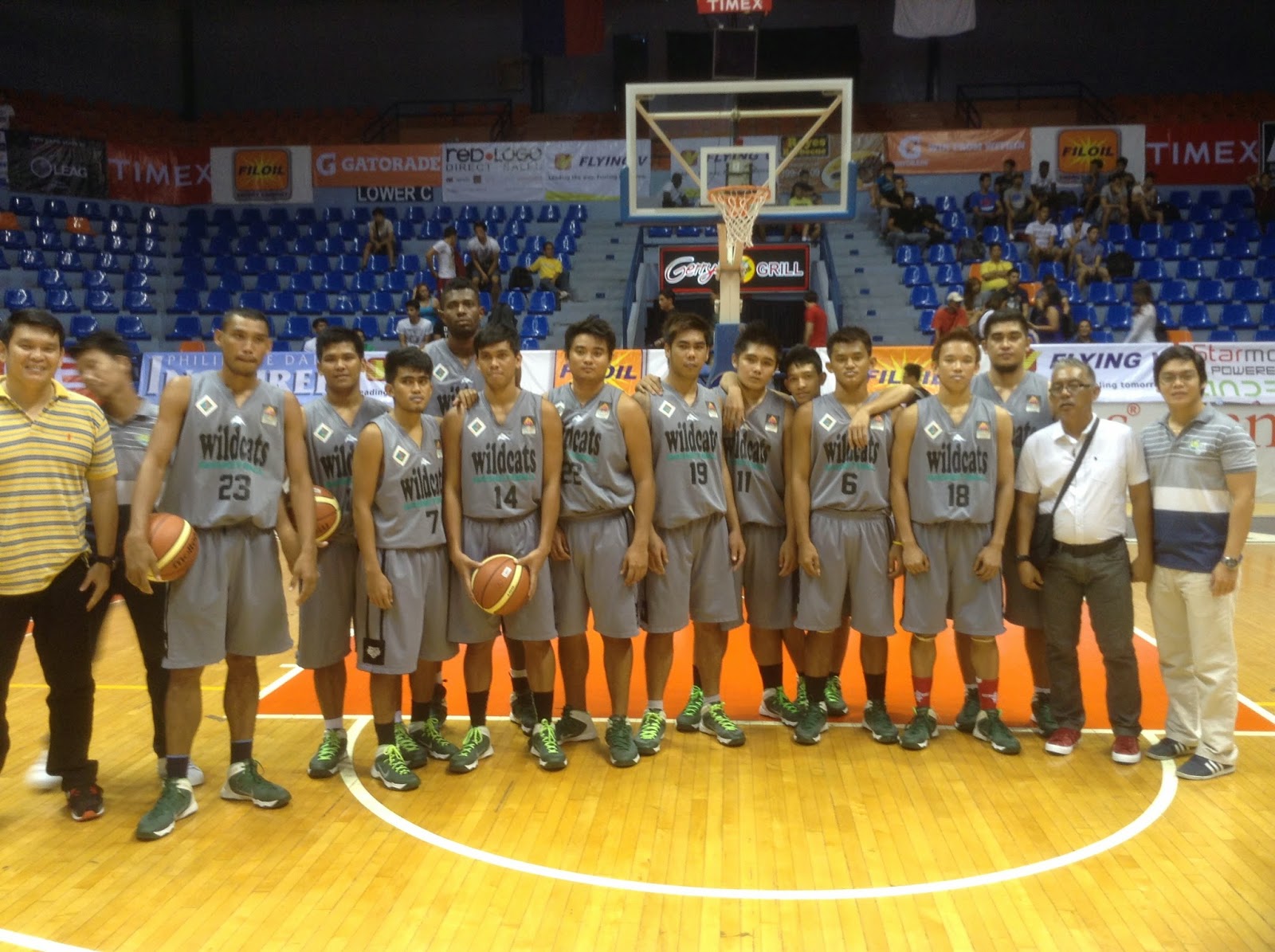 If there is one team that never seemed more joyous at being 1-5 in a basketball tournament, it's these Holy Trinity College Wildcats.
When center Delmar Mahaling plucked down a defensive rebound with his legs so far apart in the air that like he looked like a ballerina, his other teammates (and coaches) on the bench all broke out in laughter. In the Visayan language, they teased, "Para kang palaka!"
Mahaling grinned then ran to join his teammates on the attack.
During another match, the band of Emilio Aguinaldo College whacked their bass drum and chorused, "Wala," just as power forward Raymar Roxas was about to attempt a free throw. Roxas, surprised by the sudden barrage of noise, missed and his teammates on the bench got on his case for his flub.
Before coming over to Manila, the team never had a chance to practice much less get in shape. Mahaling himself had not played ball in over a month. In spite of that, the players showed a lot of potential. Masaglang, despite his wiry frame, plays like a young Peter June Simon.Mahaling will remind many of Freddie Abuda. Meylan Landicho is a gifted scorer who can get off a shot against anybody. Batiller is currently being recruited by one UAAP school.
"I will not stand in the way of my players' bettering their life," declared Coach Pol. "They are like my children already having played for me since their high school days. I care for them and what happens to them. If it's a good move then I will help facilitate the move. If not, then we will prevail upon him to stay."
There was a former Wildcat who was recruited to play in Manila but he only lasted a year because he couldn't cope with the homesickness.
"Sana naman the Manila schools when they recruit they look after the players," added Mike Torrijos. "It's not only a culture, environment, and lifestyle shock for them but also for their education. Hindi naman namin sinasabi na go easy on them na ipasa na lang ang bata but to guide them. Wala. Pinapabayaan."
Several Manila schools expressed interest in acquiring some of the Wildcats if not for NCAA or the UAAP, the D-League. While they are exciting at the prospect because this would fulfill a basketball dream, they are worried about being away from home. However, it is an opportunity. Some may even grab it.
"Definitely, there is talent," underscored Filoil commissioner Ato Badolato. "If given a better program where they can learn the game better malayo ang pupuntahan nila."
To underscore how talented the team is, in one tournament in Mindanao, they only fielded seven players – eight including African Timothe Etoundi who is so raw that they hardly use him – but they managed to win the championship.
"Do not think that we do not take the Filoil tournament seriously," explained the head coach. "We do. The boys are excited to be here. Not everyone gets a chance to go to Manila."
While staying in Manila for the games, the team rented out a small place in Project 7 near Muñoz. For meals, they eat in the carinderias. They brought with them bags of tuna to cook but they are so sick and tired of eating fish that they can no longer stomach the sight of it.
In their final match of the tournament against the University of the Philippines, there was a possibility that high school teammate now turned actor Gerald Anderson would suit up creating a frenzy. As much as Anderson wanted to play, he was not allowed to play (although he is enroling at HTC for next school year) due to a conflict with the taping. Coach Mike hung Anderson's jersey in one of cubicles. Some of the players thought of wearing the jersey and asking game barker Rolly Manlapaz to introduce them as the actor. The prank fell apart when it was noted that they might be levied a technical foul.
Come game time, the Wildcats were all business as they flat outplayed the Fighting Maroons for the better of three periods. Then UP's Diego Dario and Henry Asilum conspired for a comeback from 19-points down that saw them come to within two.
With Masaglang having a subpar game, Yusop and Rafael Lape came up huge in the clutch as they came away winners, 94-85.
"Sa totoo lang, UP lang ang pinaghandaan namin," joked Landicho who meant to disrespect to the UAAP school. Their sense of humor is something they value in the light of all their personal and communal hardships. "Masarap din yung pakiramdam na may panalo din kami."
The scores:
HTC (94) – Batiller 21, Landicho 18, Yusop 14, Pragados 12, Masaglang 11, Mahaling 7, Polictico 4, Lape 3, Roxas 2, Pepito 2
UP (85) – Asilum 20, Lao 18, Gallarza 12, Dario 11, Vito 8, Moralde 7, Juruena 3, Harris 2, Gingerich 2, Bederi 2, Romero 0
Quarterscores: 28-14; 53-35; 65-55; 94-85
Source:http://bleachersbrew.blogspot.com/2014/05/the-holy-trinity-college-wildcats-in.html (Rick Olivares)
Other News on HTC Basketeers:
http://www.spin.ph/sports/basketball/news/gerald-anderson-holy-trinity-wildcats-beat-maroons-college-preseason-tournament
https://ph.sports.yahoo.com/news/sans-actor-gerald-anderson–holy-trinity-college-still-beats-up-040136566.html