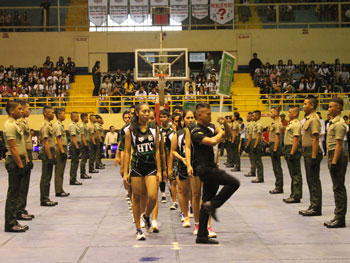 The Private Schools Athletic Association (PRISAA) held its annual PRISAA Meet last January 27-29, 2012. Seven (7) of the prestigious private schools in the city took part in this yearly event.The participating teams are from AMA Computer College (AMACC), Mindanao Polytechnic College (MPC), Notre Dame of Dadiangas University (NDDU), Ramon Magsaysay Memorial Colleges (RMMC), Stratford International School, GoldenState College and Holy Trinity College of General Santos City (HTCGSC). The event was simultaneously held in different venues all over the city.
Holy Trinity College of General Santos City was hailed as the over-all champion on the said event, a title which the HTC Wildcats defended for seven years in a row now. HTC battled its way to the top as they competed with the six other competing schools. The hard work and perseverance of the HTC Wildcats paved their way when they achieved excellence in all categories of the competition — in literary, socio-cultural and sports categories, all of which HTC monopolized.
All these would not have been made possible if it weren't for the rigorous training and preparation by the student athletes, contestants and representatives to different categories for the competition, the patience and dedication of the respective coaches and trainers, and the unending support and motivation given by the HTC Administration headed by the President, Sir Rey T. Albano, MAEd and the Vice President for Admin. and Chair of the School's Board of Trustees, Atty. Josemar T. Albano. It is indeed a well deserved victory.