President's Message
"Once a Trinitarian always a Wildcat
and once a Wildcat forever a Trinitarian!"
GoodHoly!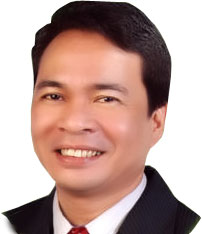 Welcome to Holy Trinity College (HTC) of General Santos City, the Home of the HTC Wildcats, and of Talents and Champions!
Thank you for your interest to learn more about us. We have a phrase here: "Once a Trinitarian always a Wildcat and once a Wildcat forever a Trinitarian!" This phrase summarizes the spirit of our campus. HTC is a community that looks into our students' success, providing them with exceptional experiences, preparing them to be career-ready and training them to be self-reliant and full of vigor. As Wildcats, Trinitarians are peace loving but will act aggressively when threatened and will not hesitate when it comes to defending their interest and home.
In HTC, you will find exceptional experiences that allow you to grow independently, explore new interests, and fully realize your potential. Becoming a Trinitarian means you are part of a close-knit community that will support you and help you achieve your vision of success. Our mission is to help you grow and be committed to be lifelong learners who are self reliant, productive, morally upright and socially responsible members of the society. As the situation around the world due to the COVID-19 pandemic continues to evolve, HTC remains committed to realizing its inclusive and flexible learning environment and workplaces where its students, faculty and staff can thrive and grow together regardless of culture, differences, health and environmental conditions.
Our website contains resources for you to learn more about HTC. You will find an introduction of our College's program offerings and support services. I invite you to visit our green campus if you can, meet our students and faculty, and see for yourself the opportunities and facilities that our institution offers, and most of all, allow us share with you the GoodHoly experience.
Get around delightfully!
Holy Trinity College Calendar