President's Corner
"Once a Trinitarian always a Wildcat
and once a Wildcat forever a Trinitarian!"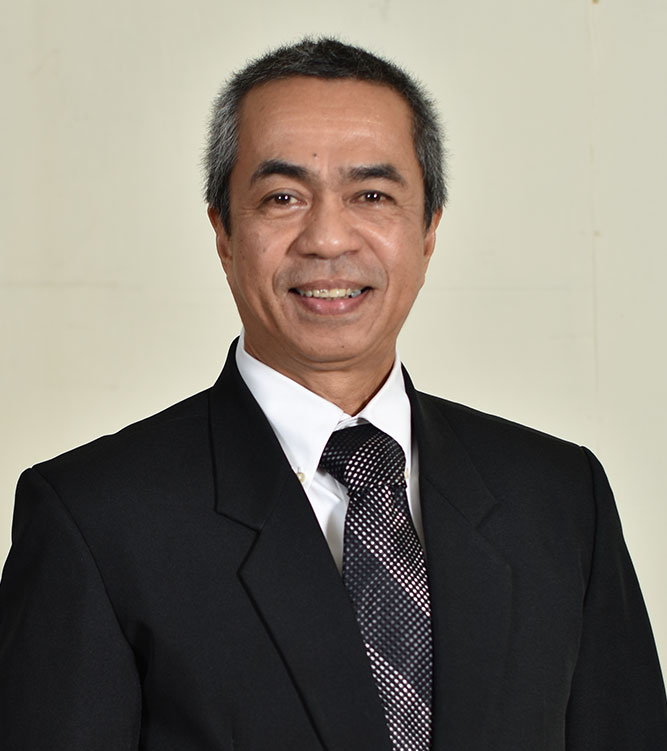 Atty. Josemar Trinidad Albano
President,
1989 – 1992; 1993 – 1996
Atty. Josemar Trinidad Albano was born on March 28, 1960 in General Santos City Philippines. He worked as a merchant marine officer and became a licensed captain at the age of 27 in 1987. During his stint as a merchant marine officer, he was able to travel to different ports in Europe, Australia and Asia from 1980 to 1992. While working on board foreign going vessels, Holy Trinity School and Albano Piano Studio was established in 1984 by BGen. Consejo S. Albano and Madame Gertrudes T. Albano with full support from all their children, Josemar, Rosalyn, Rey and Marylone. The school was eventually incorporated as a college in 1989 with all the members of the family as incorporators.
As a major source of financial resources to support the physical development of the institution, then Captain Josemar Albano was designated as the First President of the school until 1992. In 1993, he retired from his life at sea to actively engage in the management and administration of the institution. He was formally installed as its First President on the same year and served as such until 1996.
He married in 1995 at the age of 35 to Atty. Elvie Navaja Eullaran, a City Fiscal of General Santos City during that time. She is currently the Senior Assistant Vice President and Regional Counsel of the Development Bank of the Philippines, General Santos City Branch. In 1996, he proceeded to take up the study of Law at Mindanao State University, General Santos City and eventually admitted to the bar in 2001 at the age of 41. Other than the Integrated Bar of the Philippines, South Cotabato – General Santos City Chapter where he serves in different capacities as officer and director until this date, he joined several civic organizations and became actively involved in community and humanitarian services. He is a past president and has been actively serving the church as a lector of the St. Michael the Archangel Parish for more than 25 years now. He is a director of the Philippine Red Cross General Santos City-Sarangani Chapter since 2014 and served as the 60th President of the General Santos City Mt. Matutum Lions Club during the Lion Year 2020-2021.
On December 6, 2021, he was commissioned by the Armed Forces of the Philippines as Lieutenant Colonel, Judge Advocate General Service (Reserve).
He is actively involved in different sports activities but since 2012, the love of his life is long distance running, an activity shared by his wife and children. He ran his first marathon at the age of 52 and since then, he has ran more than 60 marathons and ultramarathons, an accomplishment of his goal to complete 60 organized marathons and ultramarathons upon reaching the age of 60. He is an avid table tennis player and has gained some awards during competitions.
Currently, he is the Chairman of the Board of Trustees of Holy Trinity College of General Santos City and its Provost/Chief Operations Officer (COO). He is blessed with 2 sons, Dr. Joselv Albano, a resident neurosurgeon at the Southern Philippines Medical Center and Jose Delviemar Albano, an accountancy student of the Ateneo de Davao University and a multi-awarded vlogger. They were both triathletes during their highschool days and full academic scholars in their college education.
Holy Trinity College Calendar